Here is some information about how to get to the places around the area.
NOTE: The prices for the buses might change.
Akumal
Is a town between Playa del Carmen and Tulum that has a national park where you can go and snorkel with turtles.
There are not cheap places to stay here but you can go easilly with a collectivo from Playa del Carmen or Tulum.
The use of life vest is one of the rules to snorkel and you can rent one for $50.00 MXN if you have your gear if not you can rent the whole set for $150.00 MXN.
Bacalar
This magical town of Quintana Roo is located next to a beautiful lagoon of seven shades of blue offering an ideal for diving, swimming and snorkeling space.
You can get there taking a bus from the ADO bus station that cost around 346 MXN and it runs at 07:10, 09:30, 18:00. if you buy it in advance is cheaper


Belize
There is a night bus that goes from Cancun bus station ADO to Belize city that leaves at 22:15 and the price is 616.00 MXN
To go to Belize from Chetumal the cheapest option is to go to "Mercado Nuevo" and catch the bus. There are different buses and they go pretty often, the prices are from 66.00 MXN to 210.00 MXN depends on the company and the class.

Chetumal
Chetumal is the capital of Quintana Roo state. Buses connect major cities, including those in Belize. Rental cars cannot be taken through the Belize border. The busy city's old town boasts a Caribbean feel. The excellent, interactive Museo de la Cultura Maya offers fascinating insights to those planning to follow the dramatic Río Bec ruin route. The vine-strewn ruins are rich in wildlife and give the sense of stumbling onto a Lost World.

The bus from Cancun to Chetumal runs around every hour from the bus station ADO and the price is around 354.00 MXN.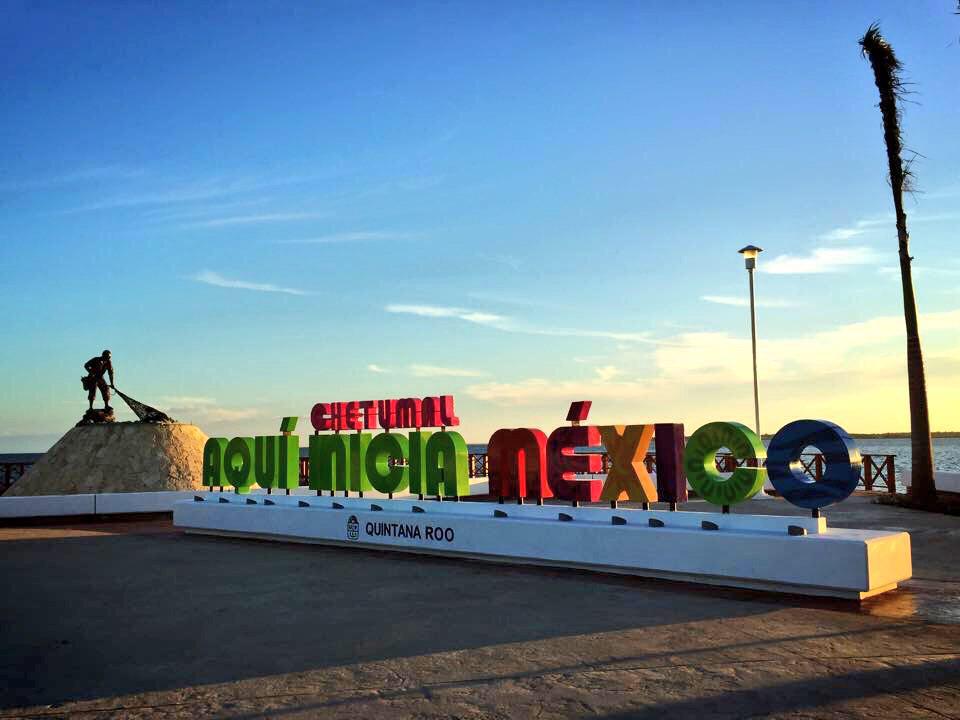 Cozumel
Ferry to and From Cozumel - Playa del Carmen
With their new fast boats, regular schedules and convenient service, you can be in Cozumel in 30 minutes departing from Playa del Carmen starting as early as 6:00 am from Cozumel to as late as 10:00 pm from Playa del Carmen.
You may buy your tickets right before you depart, or they can be bought in advance. Space on the boats is ample so you do not have to worry about availability. The The approximate cost for a roundtrip Playa del Carmen-Cozumel-Playa del Carmen is about $ 326.00 MX Pesos for adults and $ 194.00 MX Pesos for Children (6-11 years).
During the ride you will be able to watch TV ads of Cozumel and Playa del Carmen, which contain useful information on both places, and in most boats you can also sit outside and enjoy the scenery.

Holbox
Cancun to Holbox
There are four buses from Cancun to Chiquila which is the town where you can take the ferry to the island 07:00 am, 09:00 am, 12:00 am, 13:30 am. The price is $114.00 mxn and it takes 3 hours to get there. The ferry leaves when the bus arrives and the price is $100.00 mxn each way.
Isla Mujeres
Across Tulum ave. from the bus station ADO there is a colectivo that cost $8.00 mxn to Puerto Juarez or Punta Sam
Ferry from:
* Puerto Juárez (Cancún) – Isla Mujeres Price $78.00 mxn
Departures every half an hour from 5:00 am to 8:30 pm then 9:30 pm 10:30 pm & 11:30 pm.
EXTRA ROUTE SATURDAY AND SUNDAY: 12:30am.
* Punta Sam (Cancún) – Isla Mujeres Price $40.00 mxn
Monday - Saturday 7:15 am 11:00 am 2:45 pm 5:30 pm 8:15 pm
Sunday 9:15 am 1:30 pm 5:30 pm 8:15 pm
Merida
Merida is the capital and largest city in Yucatan state and the cultural and financial capital of the region. It's a modern, cosmopolitan city with museums, art galleries, restaurants, shops and boutiques. A major center of commerce, Merida Yucatan is considered the crossroads of the region and one of the most important places to experience the Mayan heritage.
To get there:
You need to catch the first class bus from the ADO bus station, the price is around 364.00 MXN and if you buy in advance is cheaper. departures are every half an hour.
Palenque
A prime example of a Mayan sanctuary of the classical period, Palenque was at its height between AD 500 and 700, when its influence extended throughout the basin of the Usumacinta River. The elegance and craftsmanship of the buildings, as well as the lightness of the sculpted reliefs with their Mayan mythological themes, attest to the creative genius of this civilization.
To get there:
You can take a first class bus from the bus station ADO that cost 876.00 MXN
There is also second class bus with air conditioned and bathroom for only 300.00 MXN with a company called Turismo Riviera Hernandez and leaves at 17:30 hrs.
You can ask the hostel staff to book it for you.
Playa del Carmen
The cheapest way is taking a colectivo from across the street of the bus station ADO that cost around 34.00 MXN with A/C and space for luggage.
Tulum
ADO bus is 130.00 MXN and it leaves every hour.
Also you can take a colectivo from across the street of the bus station to Playa del Carmen (34.00 MXN) and switch to the one to Tulum (40.00 MXN) when you arrive to Playa del Carmen.
Yal-Ku
Valadolid
Valladolid's strategic location about halfway between Cancun and Merida make it an ideal place to use as a base while exploring archaeological sites such as Chichen itza and Ek Balam.
To get there:
There is a first class bus from the ADO bus station for 186.00 departures at 08:45, 13:00, 14:00, 17:30, 22:50.
Second class bus is 85.00 MXN from the same station.
Celestun
Uxmal
Las Coloradas